Summer 2021
HKNC Connect Vol. 12 No.
HKNC Connect
Vol. 12 No. 1 Summer 2021
A Publication of the Helen Keller National Center for DeafBlind Youths and Adults 
Welcome to HKNC's electronic newsletter – CONNECT! We'll not only be keeping you "connected" to what's happening at the Center, but we'll also be telling you about things that are happening of interest to people who are DeafBlind.
THE TERM DeafBlind BECOMES STANDARIZED AT HKNC
Helen Keller National Center recently made the decision to replace the term "deaf-blind" with "DeafBlind" – language that is more consistent with that used by other national organizations and the DeafBlind community. This decision was made as a result of an anonymous survey of current DeafBlind staff, consumers and the HKNC Consumer Advisory Council. HKNC recognizes the value behind the term DeafBlind: That each person's experience is unique and includes much more than his or her vision and hearing loss. HKNC continues to align its philosophy and services with this meaning and recognizes the community's preference for the term DeafBlind.
SPECIAL ANNOUNCEMENTS
The Board of Directors of Helen Keller Services (HKS), which offers programs and services through two divisions: Helen Keller National Center for DeafBlind Youths and Adults (HKNC) and Helen Keller Services for the Blind (HKSB), have made two major staff appointments.
DR. SUSAN RUZENSKI has been named chief executive officer of Helen Keller Services. Sue has been at the Helen Keller National Center in a variety of leadership positions for 40 years and became its executive director in October 2014. She received her B.A. degree (1980) from Dowling College in Special Education; M.A. degree from New York University (1985) in Deaf Education; and Doctorate from Teachers College, Columbia University (2019) in Adult Learning and Leadership. Sue stated: "It is my great honor to serve Helen Keller Services as chief executive officer. Throughout my 40-year tenure at HKNC, I have seen the organization make great strides in bringing life changing programs to the DeafBlind community. I am grateful to the organizational team members who contribute to Helen Keller Services every day with their knowledge, skills, experience and passion. It is a privilege to be a part of the HKS team and, undoubtedly, we are poised to grow and excel as we continue to make a meaningful difference in people's lives."
DEBORAH HARLIN has been named executive director of Helen Keller National Center for DeafBlind Youths and Adults. Debbie began her career at HKNC in 1985 as an instructor in the Communications Learning Center and then moved on to a variety of different positions at HKNC including supervisor of the Person-Centered Approach Toward Habilitation Program and the Communications Learning Center. After a 6-year hiatus, Debbie came back as supervisor of the Adaptive Technology Center. Her most recent position was director of the Information, Research and Professional Development Department where she supported the development of HKNC's online courses and established and facilitated the DeafBlind National Community of Practice. Debbie received her BA in Psychology from Colgate University, her MA in Special Education from Long Island University/CW Post and her New York State Teacher of the Visually Impaired certification from Hunter College. Debbie commented, "I am thrilled to be provided this opportunity to partner with the HKS executive team and to lead such a strong HKNC team in working with people who are DeafBlind. HKNC's innovative staff have paved the way for creative and exciting new programming. As we continue to expand our offerings on campus and in the field, creating new partnerships across the country, I look forward to the increased opportunities we can provide to people who are DeafBlind, families and professionals across the country."
IN MEMORIAM – JOSEPH J. MCNULTY
It is with the heaviest of hearts that we remember and honor Joseph J. McNulty, long time staff member at HKNC including serving as the executive director for 23 years. Joe passed away suddenly on June 14, 2021, while on vacation with the one he loved best, his wife Kathy. He is also survived by his two children, Brian (Caitlin) and Kate and 2 grandchildren, Brennan and Molly.
It's hard to put into words the impact Joe had on those of us at HKNC. It all began in 1979 when he was hired as a mobility instructor transferring from the old Industrial Home for the Blind (now HKSB). Over the years, Joe advanced into several positions including Residence director, Affiliate coordinator, assistant director of Field Services and, finally in l990, he became the executive director of HKNC. Joe retired in 2013 to spend time with his family.
Among the many accomplishments of Joe's tenure as executive director was his securing the funds to build the Leona and Harry B. Helmsley Conference Center on HKNC's campus in Sands Point and providing the impetus for the establishment of the National Family Association of the Deaf-Blind. Under his leadership, HKNC was named "the gold standard for provision of services to deaf-blind individuals" by the Rehabilitation Services Administration. In addition to his long time commitment to providing participants at HKNC quality training, Joe was dedicated to providing services to people who were DeafBlind on a national level. He served as co-chair of the National Coalition on Deaf-Blindness, co-principal investigator for the National Consortium on Deaf-Blindness and served on the boards of Mississippi State University's Blindness and Low Vision Program, Perkins National Deaf-Blind Training Project and the Education Task Force & Consortium for Citizens with Disabilities. Joe earned the utmost respect from the DeafBlind community, professionals in the field and the parent organizations with whom he has collaborated. In 2003, he was the recipient of the prestigious Anne Sullivan Macy Medal at the 13th Deafblind International World Conference on Deafblindness "in recognition of his exemplary contributions, efforts and achievements on behalf of individuals who are Deafblind." Joe was a great supporter of the staff at HKNC. When he announced to them that HKNC was considered to be the leader in the field of deaf-blindness by the U.S. Department of Education and by Congress, he said, "For this, as the executive director, I am both appreciative and thankful to you, the staff, who have made it all possible through your hard work."
Joe was blessed with the "Irish gift of gab." He had the ability to speak easily and confidently in front of every audience or individual. His well-documented sense of humor made every encounter with Joe interesting and alive. He was a people person, gregarious and sociable, and, oh, could he tell stories! Let us be thankful for our special memories of Joe's warmth, joy and friendship and for the example of a life well lived.
FROM THE EXECUTIVE DIRECTOR'S DESK
There's light at the end of the tunnel!!
I'm very happy to be able to announce that HKNC has set a target date of the end of September 2021 (dependent on staffing), to resume our residential on-site Comprehensive Vocational and Rehabilitation Training Program at our headquarters in Sands Point, NY. The New York employees are now working on the campus full time. Extensive planning is being undertaken to make sure that we can provide a safe environment for our participants and staff.
In spite of the pandemic, life has gone on this past year – virtually. Since closing our campus in March of 2020, we have continued conducting classes remotely in all the core areas of training: communications, independent living, assistive technology, vocational services and orientation and mobility as well as our Summer Programs for Youths. Using Zoom, videophone, JAWS Tandem and other adaptive devices, along with the assistance of support service providers, family or friends, participants have not had to delay the necessary training they need to become independent and employed. The silver lining in this challenging past year is that virtual classes can, and will, continue for potential participants who prefer that method of training rather than traveling to New York for in-person assessment and training.
An important initiative we continue to work on is expanding services both locally and nationally and increasing the number of consumers receiving services. This is being accomplished by the expansion of the number of HKNC DeafBlind specialists across the country to 11 and adding 3 youth services coordinators. The DeafBlind specialists provide employment training for individuals who are DeafBlind in their home states. They are the "boots on the ground" to support consumers who are returning from their training program at HKNC and for those individuals who can't come to NY for training but still require services at home to gain employment and independence. The youth services coordinators, currently located in New York and Illinois, provide pre-employment training services (Pre-ETS) to youth in collaboration with their schools and state DeafBlind projects.
Through grant monies we have created an online course for professionals who are working with seniors focused on technology. The areas covered include iDevices, screen reader and screen enhancement software programs, braille displays, independent living technology such as signaling and vibratory systems and more. This online course is free of charge at this time. Access our current course listings here!
                                                                                                                                                    ~ Debbie Harlin
DEAFBLIND AWARENESS WEEK 2021
In recognition of the achievements of people who are DeafBlind, the Helen Keller National Center for DeafBlind Youths and Adults celebrated the last week in June as "Helen Keller DeafBlind Awareness Week." This national advocacy campaign has been held each year since 1984 when President Ronald Reagan issued a proclamation in recognition of this special week.
In 2021, we celebrated Helen Keller DeafBlind Awareness Week from June 27th to July 3rd. The theme this year is: DeafBlind Employees Can Help Businesses Grow with Unique Insights and Perspectives.
The essence of the message is that 2020 was a landmark year for improvements in Diversity, Equity, and Inclusion, and people with disabilities have seen benefits of this progress. Talented employees who are DeafBlind are more than doing their part to assist companies grow. A recent study provided by Accenture, Getting Equal 2018: The Disability Inclusion Advantage, found that businesses employing individuals with disabilities achieved, on average, 28% higher revenue, 30% greater economic profit margins and twice the net income of their industry peers.
THE NEW TRAINING, RESEARCH AND INNOVATION CENTER AT HKNC
HKNC is excited to announce the establishment of our new Training, Research and Innovation Center (TRIC) located in Sands Point, NY. TRIC has been created to: provide short term training for individuals who are DeafBlind, typically lasting for one or two months; offer Train-The-Trainers Seminars to professionals working with individuals who are DeafBlind; establish relationships with companies to support their development of accessible technologies/programs; review and evaluate products such as braille displays, operating system upgrades or other equipment; educate staff within HKNC to promote further awareness of trends and information concerning technologies in use within the DeafBlind community.
The new coordinator of TRIC, Scott Davert, has a long history with HKNC as a former participant and then staff member in the Communications Learning Center and the Adaptive Technology Center. He served as regional representative in Colorado and was the program coordinator for the New York iCanConnect program. Outside of HKNC, Scott worked for the state of North Carolina as a DeafBlind services specialist, and as a customer relationship manager for Sprint and then T-Mobile Accessibility. In addition, he assists in the running of AppleVis on-line resources. He has been publishing articles in various publications since 2008 on technology as it relates to the DeafBlind community. Scott's most recent article, A Review of the Brailliant BI 40X can be found at Review of Brailliant
NEW ON HKNC'S WEBSITE
*The newest online training being offered at HKNC is based on a course entitled Pre-Employment Transition Services, by Debbie Fiderer, coordinator of HKNC's New York Community Services Program. The content has been uniquely designed for DeafBlind youth and provides information and resources to assist them in the planning process of transitioning from youth to adult services to prepare for future employment. The course is fully accessible and will always be offered FREE for all DeafBlind transition-age youths. Please contact the HKNC regional representative in your area for a coupon code. NOTE: All HKNC courses remain FREE. For a complete list, go to HKNC Online Courses.
*A series of functional video resources have been created to demonstrate various tactual techniques, adaptive equipment and modifications that can be used in the home to provide access for people who are DeafBlind and increase their independence. Maricar Marquez, supervisor of HKNC's Independent Living Department and other DeafBlind professionals walk the learner through the steps and modifications needed to perform everyday tasks. For specific questions regarding the techniques and/or tools used in these videos. For more information, please contact Maricar Marquez at MMarquez@hknc.org. Link to the current videos: Independent Living Video Resources
SUCCESS ON THE EMPLOYMENT FRONT
To say that this past year of COVID-19 has put a damper on people's lives is an understatement. However, there are glimmers of hope that life can, and will, go on. Below are the stories of several of HKNC's consumers across the country who, in spite of the pandemic, are now employed.
Nick G. recently experienced a progression in his vision loss due to Usher syndrome that affected his ability to navigate safely at the Philips Academy Cafeteria where he works as a dishwasher. Nick connected with the New Hampshire Vocational Rehabilitation Program in collaboration with HKNC to request on-site orientation and mobility training. Using tactual ASL and Haptics, Nick received basic cane training which allowed him to keep his job. Nick said, "So far I have been using my cane and it has helped so much. I feel more relaxed and much less pressure. I feel it was the right decision to use the cane…it was worth the wait!'"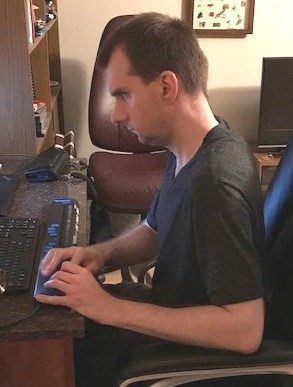 Ryan V. was recruited from college to work at Vanguard Group in Pennsylvania as a developer. He came to HKNC in 2019 for training to upgrade his braille and technology skills before returning to his job. When the pandemic hit, Vanguard closed their offices and told their employees that they would now have to work from home. Ryan moved back in with his family in Florida where he continues his job as a Vanguard developer. His dad said, "Ryan misses going to his office and interacting with everyone. We are grateful that he went to HKNC when he did. They did a wonderful job helping Ryan transition to his new world. He loves his Focus 80 and Focus 14 braille displays."
Kevin T. is living his dream. After attending HKNC in the spring of 2016, Kevin went home to look for work, hoping to get a job in food services and one day becoming a chef. With the help of the HKNC staff in the California Community Services Program (CA-CSP), he landed a job as an entry level cook with Sodexo, the world's largest food and maintenance services company, at their facility in Camp Pendleton. Kevin was recently transferred to San Diego's Marine Corps Recruit Depot and received a promotion to a Level 2 cook. In conjunction with HKNC, Sodexo has begun a 6-week American Sign Language and DeafBlind sensitivity pilot program to increase DeafBlind awareness throughout their company and create an inclusive environment for all employees.
Lance K. has been able to continue working and doing what he loves – perform – through accessible virtual platforms and the use of a support service provider. A former HKNC participant, Lance is a one-man band providing vocals and jamming on the keyboard in Hawaii. Recently Lance graced the Zoom stage at the Virtual 2nd Annual Maui Abilities Awareness Fair.
Sufia J. and Misael V. met at HKNC in 2017 when they were participants. They were married in 2020 and are now both employed – Sufia at Burlington Coat Factory and Misael at Amazon. Staff in HKNC's CA-CSP working with Sufia, pitched the idea of hiring a person who is DeafBlind to the folks at Burlington department store who pride themselves on diversity and inclusion in the work place. Sufia's great attitude impressed the hiring manager and she is now working as an associate on the sales floor with returns. She is receiving HKNC support with mobility training, tech support for the magnifier she uses at work and independent living training to get her job ready with heathy lunches etc.
Christal M. has been employed for several months at Whole Foods Market in Manhattan! Christal lost her previous job due to the COVID-19 pandemic and, with supports from HKNC's New York CSP and her continued hard work and dedication, Christal was hired at Whole Foods as a grocery team member. Christal works collaboratively with her fellow team members and has recently shared that she enjoys her work at Whole Foods and feels challenged every day to continue to strengthen her skills at work!
Patsy C. is doing a work experience training with Sunrise Credit Services a s a debt collections specialist. Patsy has extensive experience working in retail customer service but, after a few years away from the workforce, Patsy was ready to put her skills to work in remote customer service! Patsy attended a virtual informational interview provided by Sunrise Family of Companies in the summer of 2020 coordinated by HKNC's National Employment and Business Relations Specialist. She also participated in the HKNC-Sunrise Credit Services Virtual Customer Service Training in December 2020, and is now a work experience trainee at Sunrise!
When Jorge M. from California was laid off due to COVID-19, he and his counselor reached out to HKNC to get employment prep and placement services. After finishing his training, staff in CA-CSP were able to assist Jorge in getting a job at Whole Foods as a prep cook. He loves his job and was thrilled that, on his first day, the manager signed fluently to him. Jorge said, "I am happy I can communicate directly with Rudy without an interpreter." Two of his co-workers are now learning sign language, making it a point to learn one new sign daily to engage in conversation with Jorge. This is a great way to embrace diversity in the workplace. Recently, Jorge was given additional cooking duties so HKNC's placement specialist in CA-CSP, was contacted to provide support with additional training.
Christina S. was having a challenging time accepting her loss of vision and hearing and how it impacted her ability to continue working. The self-limiting beliefs she had in herself, because of her deaf-blindness, were affecting her ability to find new employment. In spite of being a very experienced and accomplished financial analyst, over a period of two years Christina was unable to find new employment. It was during a meeting with her team consisting of her vocational rehabilitation counselor, HKNC's regional representative and HKNC's national employment and business relations specialist that it became clear that Christina was allowing her deaf-blindness to become a self-limiting belief. In spite of all these self-doubts, Christina was driven to succeed and open to advice and guidance. With the encouragement of her team, working together with Christina, she perservered and became inspired to "flip the switch" and realize that she was "uniquely abled." Christina was able to become more confident during her interviews and was able to openly discuss her unique abilities and strong soft skills. The interviewers were very impressed and she received three offers and accepted one. She was even confident enough in herself to negotiate a 10% increase in the initial salary offer! Christina is thriving in her new position and has joined her company's disability employee resource group. Her employer has encouraged her to accept an opportunity to train with the Guide Dog Foundation for two weeks during work hours.
Kelvin C. is the founder of DeafBlind Potter, a California based company which specializes in hand made mugs, bowls and vases. Kelvin lives with Usher II and has used the pottery wheel over the years to help him through the various stages of his vision loss. The company's mission is to build a ceramics studio that will support individuals with disabilities through pottery. In a letter to Kelvin's HKNC regional representative he said "Thank you for helping me through my deaf-blindness journey. I would not be here unless it was for you helping me get to HKNC." Check out Kelvin's website at DeafBlind Potter
WEBINARS OF INTEREST
Accessibility in the Workplace for the Deaf-Blind is the title of a webinar presented by Diamond – GAAD and moderated by Joe Devon the co-founder. Other participants were: Chris Woodfill, HKNC; Gloria Puentes, Sodexo, Wendy Chouinard, HKNC; and Lucas Soto, Mind Your Language. View The Webinar here
· The most recent O&M Seminar, moderated by Monica Godfrey-Lehrer, "O&M in a Virtual World: A Model for Providing Services to DeafBlind Adults" can now be viewed on YouTube. Go to O & M Webinar
THE NATIONAL CENTER ON DEAF-BLINDNESS (NCDB) NOW HOSTS NEW WHITE PAPER:
DeafBlind People and Support Service Providers in the 21st Century
"This white paper is the most comprehensive publication to date on support service providers (SSPs). It includes information about the role of SSPs, how SSP services developed in the United States, what is currently known about how to establish and operate SSP programs and train SSPs, and challenges that exist in ensuring that high-quality SSP services are available in communities. The intention of this paper is to serve as a resource for understanding the role of the SSP and the positive outcomes—increased self-confidence, self-sufficiency and self-worth—that DeafBlind people can achieve when they have access to these vital services. The co-authors of this white paper are:
· Paul Deeming, DeafBlind Services Minnesota
· Katherine Gabry, DeafBlind Community Access Network of New Jersey
· Mark Gasaway, Disability Advocate & DeafBlind Community Access Network of New Jersey
· Beth Jordan, Helen Keller National Center
· Randall Pope, DeafBlind Individual
· Elizabeth Spiers, Virginia Department for the Blind and Vision Impaired
Are you passionate about working with people?
Do you want to learn more about providing excellent customer service? Have you worked in Customer Service in the past and looking to strengthen your skills? Or perhaps you are just learning to network. If you answered yes to any of the questions above, the HKNC/HKSB – The Sunrise Family of Companies, General Customer Service Training Workshop is for you!
HKNC and Helen Keller Services for the Blind (HKSB) have partnered with The Sunrise Family of Companies to host customer service workshops in the fall of 2021! This General Customer Service Training Program is for any and all current or former HKNC/HKSB participants.
Dawn S. and Elizabeth V. from The Sunrise Family of Companies have volunteered their time and expertise over the past year to collaborate on building a program for all HKNC/HKSB participants. Dawn and Elizabeth have worked closely with HKSB's Karen Barrett, employment services director and HKNC's Joseph Melillo, national employment & business relations specialist, Elaina Carman, employment services coordinator and Nancy Carazo, placement specialist, to develop, coordinate and deliver the program.
The Sunrise Family of Companies is widely recognized as one of the most progressive companies on Long Island, New York, for having an inclusive and diverse workforce. They believe everyone is "differently-abled" and provide their own unique perspective and talents to the workplace. We have successfully held three series of the Customer Service Training Workshop. This training covers various kinds of customer service topics from in person to remote settings.
Dawn S. and Elizabeth V. provide a dynamic and engaging workshop, along with the HKS Employment Team! Don't Miss out on this fun, exciting, and educational opportunity!
If you are considering employment as a receptionist, retail associate or manager, direct service professional, call center representative, or any position where you will be interacting with people this workshop is a great opportunity to take advantage of. All trainings are remote using Zoom.
FEELING THROUGH – RUNNER-UP FOR AN OSCAR
"Feeling Through" is a short film featuring, for the first time ever, a DeafBlind actor in a leading role. Former HKNC participant and employee, Robert Tarango co-stars in this ground breaking inclusionary film written and directed by Doug Roland. It tells the true story of an unlikely encounter on the streets of New York City between a sighted hearing man and a man who is DeafBlind.
The film has been shown across the country along with a fully accessible, unique and engaging screening event called "The Feeling Through Experience" which was developed in conjunction with HKNC. The "experience" includes a screening of "Feeling Through" and a supporting documentary film about the making of the short film and the search for the DeafBlind man who inspired it. The "Experience" also includes a "talk-back" session with the audience, Doug, Robert and others from the community including people who are DeafBlind.
"Feeling Through" was one of the 5 finalists for an Academy Award for best Live Action Short Film. Although "Feeling Through" didn't receive the Oscar, the nomination was a remarkable accomplishment. The awareness the film brought to the DeafBlind Community can never be underestimated. Being one of the Oscar nominations brought accessibility and inclusion into light. Robert Tarango is a trailblazer and hopefully, his remarkable performance will be the catalyst for others, DeafBlind or otherwise, to chase their dreams. You can view "Feeling Through" free on YouTube. You can also view "Connecting the Dots" documentary here: Connecting the Dots
If you are interested in more information about HKNC's specialized training programs either virtual or in-person, contact your HKNC regional representative.
If you would like to reprint any articles from CONNECT!, please send an email to info@helenkeller.org for permission and crediting information.
HKNC's mission is to enable each person who is DeafBlind to live, work and thrive in the communities of their choice.
Please contact our headquarters for more information
141 Middle Neck Road, Sands Point, NY 11050
Phone: 516-944-8900, Ext. 1299; TTY: 516-944-8637; Videophone: 516-570-3626 Email: info@helenkeller.org Website: www.helenkeller.org
Debbie Harlin, Executive Director
NEWSLETTER COMMITTEE
Editors: Allison Burrows & Beth Jordan
Photo Credits: Allison Burrows, Wendy Chouinard
"Like" HKNC on Facebook!